Our Master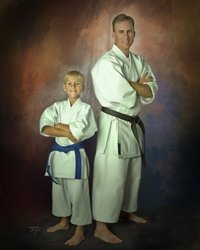 Master David Olsen, 7th Degree Black Belt

Sensei David Olsen has been studying karate since the age of 13, and he has been teaching karate for over 29 years. He has developed a unique teaching style that is fun and exciting but is also very structured and disciplined.
In 1996 Sensei Olsen opened Westfield Family Karate in Westfield, Indiana.
In 2008, Sensei Olsen was awarded the title Shihan (Master). He currently holds a 7th degree black belt masters ranking.
Sensei Olsen has been married to his wife Tonya for 24 years. Tonya is a 2nd degree black belt and teaches our Little Ninja classes. They have two children, a daughter Emily, 22, and a son David Jr., 21. David Jr. is currently a 2nd degree black belt. David Jr. helps teach regularly in both the children and adult classes.